Ryan is a character from "Z Nation", first encountered in Season 3 episode 4 "Escorpion and the Red Hand".
Background
Edit
Nothing is known about Ryan's life before the outbreak started.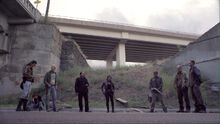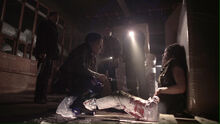 Post Apocalypse 
Edit
Ryan was part of a group attacked by The Red Hand. His friends are killed and he is left alone with two men. He enconters the Westward-bound survivor group under a bridge where his friends have been hanged and gutted. First accusing them to be part of The Red Hand he accepts that they are just travelers. After being attacked again Ryan is locked in together with Roberta Warren, Escorpion and his mate Clive in a wearhouse. It turns out Clive and his group killed people to get to their food and The Red Hand is comming for vengance. Ryan attacks Escorpion and ends up falling on his own knife. As he turns Escorpion gives him mercy.  
Shot (mercy)
Ad blocker interference detected!
Wikia is a free-to-use site that makes money from advertising. We have a modified experience for viewers using ad blockers

Wikia is not accessible if you've made further modifications. Remove the custom ad blocker rule(s) and the page will load as expected.