The Museum of Progress is located in Spokane, WA. It is where Murphy decides to set up operation for his new world.
The compound consists of a throne room, a dining area, a labratory, sleeping quarters, vaccine tents, latrines, a zombie moat and a room for Lucy.
The place is guarded by a few of Murphys trusted men, such as Will Chaffin. After you are given the vaccine, you are allowed in, you surrender your weapon and are given a job based on previous skills.
The location is on Napa Street north of Sprague and south of Trent in east spokane.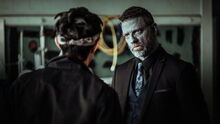 Ad blocker interference detected!
Wikia is a free-to-use site that makes money from advertising. We have a modified experience for viewers using ad blockers

Wikia is not accessible if you've made further modifications. Remove the custom ad blocker rule(s) and the page will load as expected.